New Quartet at Porgy & Bess Vienna on MAY 7th
Tuesday, 13 april 2021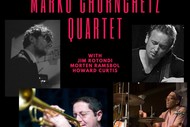 It has been a while since playing the last LIVE concert due to the pandemic - October 2020!
Very looking forward to bring my new Quintet to one of my favourite jazz clubs in the world - Porgy and Bess in Vienna!
It will feature the great Jim Rotondi on trumpet, Morten Ramsbol on doublebass and Howard Curtis on drums. Can't wait to share some new music with you all.
Also very excited for a few solo piano concerts in the summer. Stay tuned!